SPA, WELLNESS & HOSPITALITY BRAND SERVICES
If you're a spa

or a hospitality organization 

that's experiencing issues around Diversity, Equity and Inclusion we have a solution.
SPA, WELLNESS & HOSPITALITY CONSULTING SERVICES
Come back stronger in this new phase of your spa business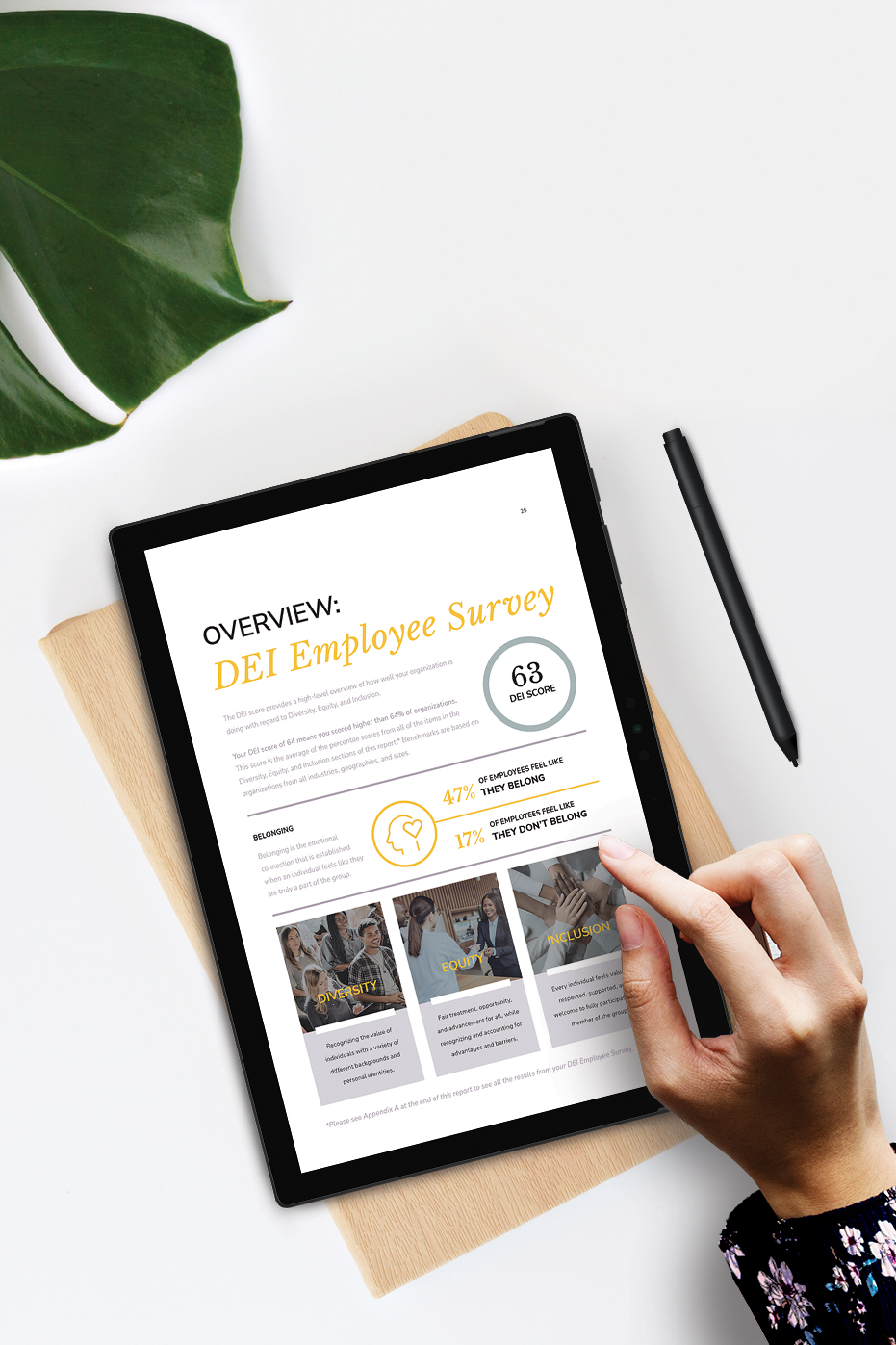 DIVERSITY & INCLUSION ASSESSMENT

FOR HOTELS & RESORTS
An assessment of your organization's commitment to DEI + an undercover operation starting from the diverse guest perspective.
This in-depth onsite and online audit is a complete assessment of your commitment to DEI, and is ideal for high-end hotels and resorts looking to pinpoint and improve issues within key departments, and focusing on the spa guest experience and facilities with special consideration for the diverse consumer. First, the consultant goes through a typical guest journey from start to finish to uncover any disconnects or problem areas.  Second, a DEI Employee Survey is performed to pinpoint problem areas and reveal the cultural climate at the workplace, or the climate within certain teams in the organization.
In-depth audit on branding, marketing, experience, facilities, diversity, equity and inclusion for 4 customer-facing departments with a special focus on Spa & Fitness. Includes 2 days of on-site visits.
DEI Employee Survey that includes research-based survey questions, normative benchmarks, and an interactive dashboard that will clarify your workplace culture climate and identify opportunities for improvement (can include all departments in the organization)
Full evaluation of any digital aspects that contribute to guest (and potential guest) experience
Roadmap with actionable implementation recommendations for improved performance, with an emphasis on the spa (written report, highlight presentation)
Optional add-on: Thriving in a Diverse Hotel/Spa: DEI Masterclass for Management & Team Members
Clear, comprehensive picture of all spa performance problem areas
Specific, step-by-step plan for creating/improving a safer & more inclusive environment, a better wellness experience for everyone, and the service to your community
Specific, step-by-step plan for improving spa performance in all key areas that contribute to hotel/resort spa success
DEI Employee Survey that will clarify your workplace culture climate and identify opportunities for improvement
Immediate increased revenue, guest retention rates and 5-star guest reviews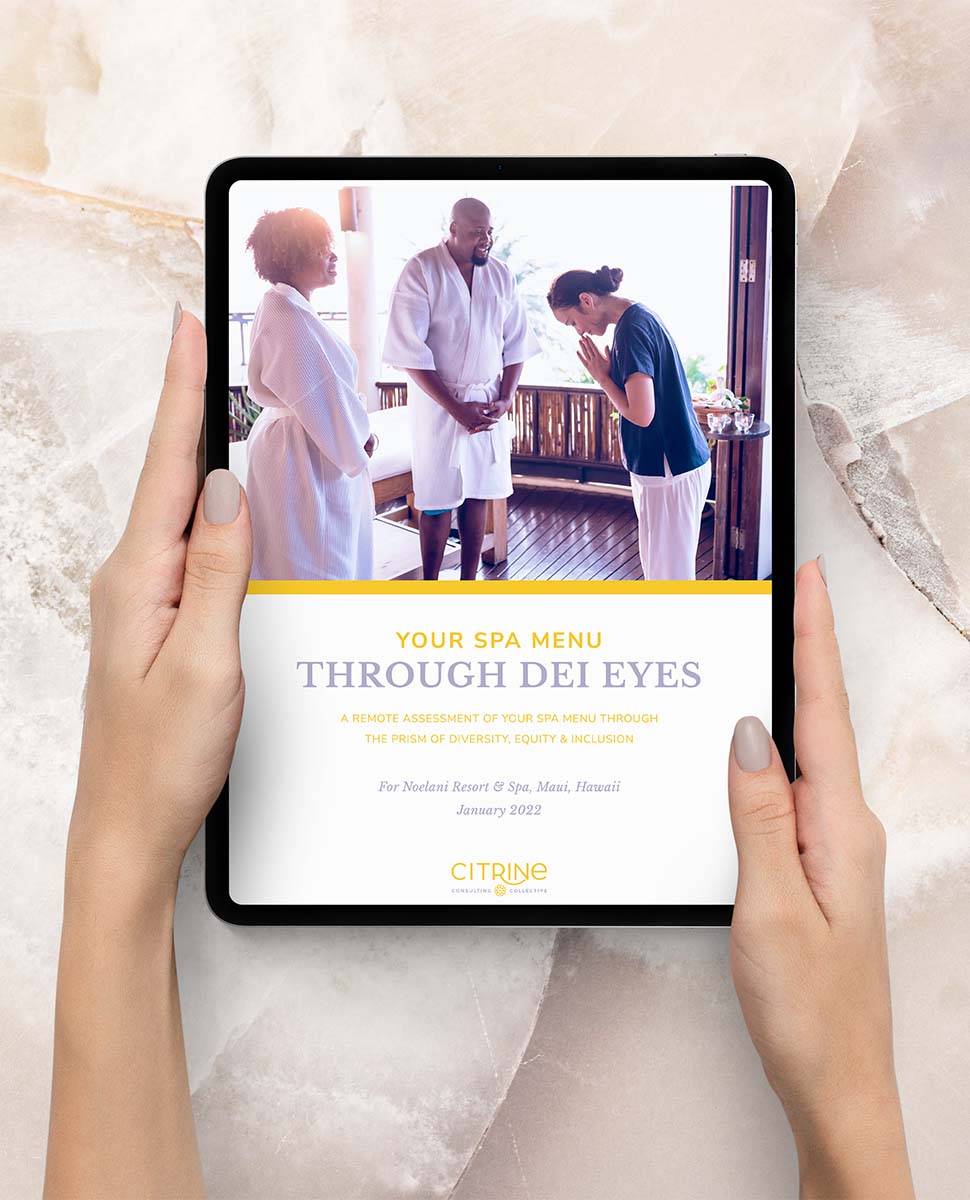 YOUR MENU THROUGH DEI EYES:
A REMOTE MENU ASSESSMENT
Planning a new menu or revamping your current offerings? Find out how well they will resonate with diverse guests in this quick & efficient virtual menu DEI assessment. You'll get answers to questions like:
Is this menu inclusive? How inclusive is it?

Do our offerings need to expand to consider other wellness issues affecting a large proportion of people?

Are any of these offerings causing harm inadvertently to Indigenous groups, people in large bodies, those in the LGTBQ community, or others?
This offer is designed to best serve Hotel and Resort Spas, destination spas and wellness establishments offering a wide range of wellness services. This remote intensive includes an analysis of your menu and planned marketing efforts through the prism of DEI, a 2-hour presentation/Q&A call with key stakeholders, and a PDF report with key findings and insights. Ideal for Hotel & Resort Spas, destination spas and wellness establishments looking to uncover how inclusive they are with their spa menu in order to provide a personalized, transformative experience for all guests.
As this is a virtual audit, an in-person assessment of the facilities and services is not included.
Pre-session report review
2-Hour intensive call with key stakeholders
Additional discovery and follow up report
Clarity around the scope of inclusivity in your service offerings
Accessible way to begin addressing issues related to DEI
Immediately understand where to start improving or tweaking offerings to make them more inclusive
An inclusive spa with a thriving company culture and loyal, diverse guests is within reach.
Find out how to achieve this now.
Click to share your information and grab a spot on our calendar.