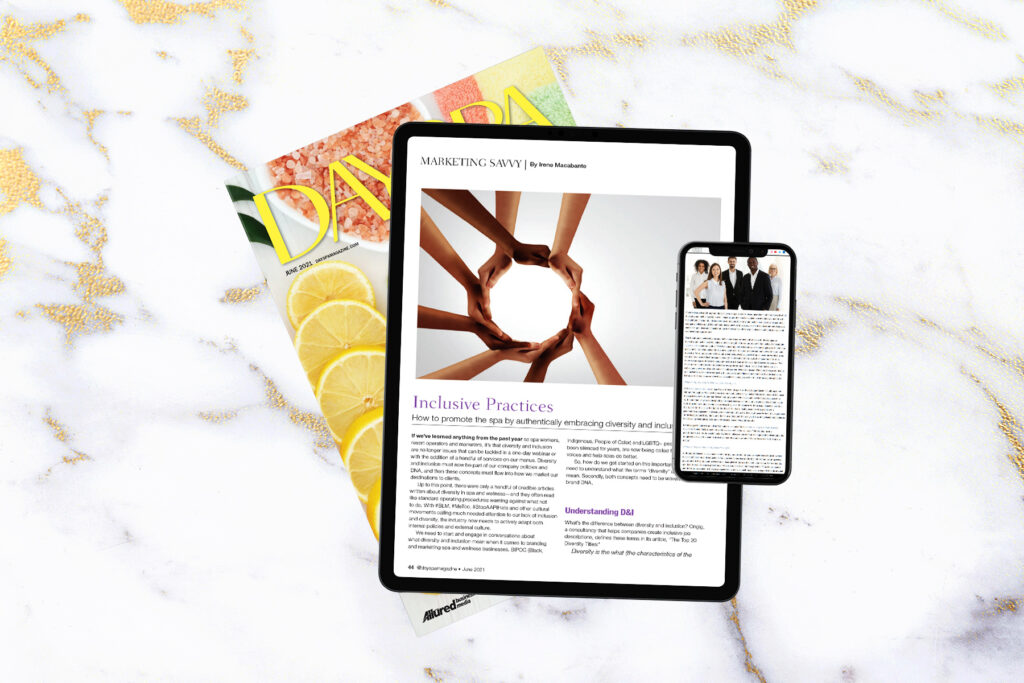 Author's Note: On June 4th, an article I wrote for DaySpa Magazine called, "Inclusive Practices: How to promote the spa by authentically embracing diversity and inclusion" was published. Below is the full version of the article. I've added some links for further reading. 
If we've learned anything from the past year as spa owners, resort operators and marketers it's that diversity and inclusion are no longer issues that can be tackled in a one-day webinar or with the addition of a handful of services on our menus. 
Diversity and inclusion must now be part of our company policies and DNA, and then they must flow into how we market our spas and resorts. 
Up to this point, there were only a handful of credible articles written about diversity in spa and wellness – and those read like standard operating procedures warning against what not to do. With #BLM, #MeToo, #StopAsianHate and other cultural movements calling much needed attention to our lack of inclusion and diversity, the industry now needs to actively adapt both internal policies and external culture. 
We need to start and engage in new conversations about what diversity and inclusion means when it comes to branding and marketing in spa and wellness businesses. BIPOC (Black, Indigenous, People of Color) and LGTBQ+ people, who have been silenced for years, are now being called forward to use their voices and help spas do better.
First, we need to understand what the terms diversity and inclusion mean. Secondly, they need to be woven into the spa's brand DNA.
Understanding D&I
What's the difference between diversity and inclusion? Ongig, a consultancy that helps companies create inclusive job descriptions, defines these terms in its article, "The Top 20 Diversity Titles:"
"Diversity is the what (the characteristics of the people you work with such as gender, ethnicity, age, disability and education). Inclusion is the how (the behaviors and social norms that ensure people feel welcome)." (Ongig)
Diversity is defined as individual differences between groups based on such things as:
abilities

age

disability

learning styles

life experiences

neurodiversity

race/ethnicity

class

gender

sexual orientation

country of origin

cultural, political or religious affiliation

any other difference
Inclusion is more about creating a feeling of belonging and safety. Creating a safe and inclusive space for guests has always been a basic, foundational principle but as a lifelong passionate spa-goer and woman of color, in my opinion it has not gone far enough. There were numerous times over the years where I have felt extremely unsafe in the spa – both physically and emotionally – caused by both practitioners and other guests. In one particular incident in Miami, I was hit on and harassed by a drunk male guest who was smoking while I was relaxing in the spa garden in between treatments. I brought it to the attention of the white Millennial woman who was working the front desk, and she was completely out of her depth to help resolve the situation. I also heard her laughing about it later with the man in question as I sat in their waiting room.
We've gone beyond the need to create a relaxing environment at the spa, to creating a place where we now must foster inclusiveness – allowing individuals or groups to feel safe, respected, motivated, and engaged.
Hire and Train In New Ways With D&I In Mind
The intention to have a diverse and inclusionary environment all starts with the company's D&I policy and the strength of their commitment to that policy. AccorHotels' signature tagline, "Feel Welcome," applies to both its guests and employees. In 2018, the global hotel brand launched RiiSE, a new identity for the group's international network to promote diversity. "As an international hospitality company, we have guests from all over the world and we want our teams to reflect the same diversity," said Heather McCrory, EVP of operations North & Central America with AccorHotels, and the North & Central America RiiSE executive sponsor. "We have internal statistics that indicate the best performing hotels in terms of our key metrics —colleagues, guest, brand and financial— embrace our diversity mission. The more diverse our teams are, it increases our ability to connect with our guests and fellow team members. Diverse teams are better performing teams and we have been able to demonstrate that in all of the regions globally."
At the Waldorf Astoria Spa in Las Vegas, Director of Spa + Wellness Shane Upson is building upon Hilton's D&I tagline, "We are diverse by nature and inclusive by choice." His current team is the most diverse team he's ever had, and that flowed naturally out of who he is and how he hires. As a gay man with over 25 years in hospitality, his experience and difference gives him a unique perspective in both right-fit hiring and providing exemplary services to guests. "It all starts with the team. I just believe that the right fit for the job is the right fit for the job, but I also really resonate with people with personality and passion, and seeing the potential in them. I will look at [those] without the experience or the background, bring them onto the team and mentor them myself. One of my leadership styles is that I lead by example and I interact with each person very differently."
A major focus at Sensei Lāna'i, A Four Seasons Resort, is an inclusion and diversity of ideas from all staff. Dr. Vishal Patel, Director of Wellness Research at Sensei, states that "rather than hiring practitioners to fit within each modality, Sensei takes a more customized approach in leveraging the unique expertise of the team to drive the creativity and curation of the services we feature on our menu." Additionally, Sensei is passionate about crafting unique and immersive experiences that showcase their team's passion and competence for a particular service or offering, rather than training every practitioner to be proficient in every area. Examples of this are the Lomi Lomi/Lomi A'e treatments, and their Korean-Japanese practitioner who is a master level Shiatsu practitioner. "This helps ensure our offerings are rooted in diverse perspectives, while also pushing guests to expand outside of what they would usually get at a spa, whether that means recommending a male practitioner for a specific treatment or introducing them to cultural treatments such as Lomi A'e with a best-in-class practitioner."
Practicing Authenticity 
Whether it's leadership or programming, practicing authenticity is the key to making diversity and inclusion work both internally and externally. Brené Brown, widely known as the best-selling author and viral-video TED Talk speaker who literally wrote the book on courage, empathy, shame and vulnerability, states that:
"authenticity is a collection of choices that we have to make every day. It's about the choice to show up and be real. The choice to be honest. The choice to let our true selves be seen."
When your spa's company culture and mission are authentically diverse and inclusionary, conditions conducive to everyone's well-being are created – and spa-goers will notice.
Local, "culturally inspired" spa experiences, previously regarded as lip service or token gestures, can now actually be respectful reflections of the locale and its ancient practices because of the authenticity of their diverse group of practitioners. Good examples of this can be found at Mii amo Spa in Sedona and Sensei Lāna'i. 
The words mii amo are a literal translation of "Journey," or "to continue one's path" or "moving forward" in Yuman, a Native American dialect. Mii amo has long been known for weaving Native American wisdom into their service offerings. A huge number of guests that visit seek a spiritual awakening or transformation based on those Native-inspired elements in the service menu and the "woo-woo" mystique of Sedona. Jim Root, General Manager of Mii amo and Director of Wellbeing of Enchantment Group, is careful not to call the experience at Mii amo a cultural one, instead likening the journey at Mii amo to respecting the sense of and spirit of place. "Mii amo is about sharing this place and space as a steward and not so much about creating it," Root says. "The magic of Mii amo is the people that are here in this place, who are on their own journeys, working and sharing the timelessness of the Canyon, and who feel that this is what it's all about." 
This sense of stewardship for place is similar to wellness experiences in Hawaii, particularly ones that feature ancient practices like lomilomi massage. The newest destination spa to offer this traditional Hawaiian healing practice is Sensei Lāna'i, A Four Seasons Resort. Opened in November 2019, Sensei Lāna'i bills itself as a premier wellness destination resort helping people learn daily practices to live longer, healthier lives. Sensei's Lomi Lomi and Lomi A'e are two Hawaiian-inspired services offered as part of the whole Sensei Way evidence-led approach to well-being. In order to offer the most authentic experience possible, Sensei enlisted Claudette Maka Pico, a native Hawaiian, born and raised in the islands. Dr. Patel describes Pico as "an incredible spa practitioner" who studied for many years under a Kumu (Hawaiian word for teacher, coach or guide) of Polynesian lomi to learn how to practice Lomi Lomi and Lomi A'e, the art of traditional Polynesian body walking (her specialty) and one of the most unique treatments offered at Sensei Lāna'i. Pico begins each Lomi Lomi/Lomi A'e session with a pule, a Hawaiian for prayer or blessing, and a moment of silence before she begins. During that time, she listens for what the body needs. As Lomi A'e is an ancient art that is passed down, there are very few spas worldwide that even offer this.
This kind of authenticity in diverse practices flows through to all the other aspects of wellness offerings at Sensei. "The Sensei Way", is a science-led philosophy that is a highly personalized, guided experience that addresses every body down to the cellular level. Dr. Patel states, "the time and attention that Sensei Guides provide each guest creates a personalized experience that cuts through the 'one-size-fits-all' recommendations that often feel biased and impersonal."
Connect With the Community
Minority communities are generally experts in knowing when they are being addressed in disingenuous or patronizing ways. We are keenly aware when white-led institutions – be it Apple or Dancing With the Stars – start mysteriously thrusting people of color or LGTBQ front and center, or when leadership suddenly begins trying to engage in dialogue with us when previously nobody cared to even listen. Before George Floyd, Breonna Taylor and #BlackLivesMatter, finding high-quality stock photography with diverse/brown faces – especially in spa and wellness – was practically impossible and totally ironic given the demographics of the industry.
In order to effectively market a spa that embraces diversity and inclusion, the brand needs to get out into the BIPOC and LGTBQ communities, listen to locals, participate in meaningful conversations, and really show that they mean it when they say they offer a safe, inclusive space for healing and well-being. Shane Upson of the Waldorf Astoria Spa in Las Vegas and a very loud and proud member of the LGTBQ+ community, says that being out and active in community events is the best way to let people know that your space is safe for people to come to. "We need the connectivity with the communities, no matter where they are or who they are. You have to be visible, you have to be active, you can't just buy advertising and throw it into a magazine. People want to connect with people. You have to be out there and involved in a very authentic way."
He continues to say that spa brands have to be present in local spaces with team buy-in and representation and connection in the community. "You have to do things for the community, you have to be involved, whether it's you know, having bounce backs, or a loyalty program, giving rewards to those that bring their friends and their family in…you have to have an authentic approach because the gays will see right through it."
We must foster inclusiveness, allowing individuals or groups to feel safe, respected, motivated and engaged.
Audit Your Offerings
Doing things the old way for new, diverse and inclusionary experiences isn't effective or efficient – it can actually be downright damaging. I can tell you numerous stories of how I was traumatized or disappointed by a spa experience because the menu descriptions weren't accurate (and I got the wrong treatment for my needs), the practitioner didn't know how to perform the service properly, the service was half-baked and not thought through well enough, or the practitioners were attempting to perform a culturally sensitive service that ended up feeling weird and disjointed despite the fact that they had, by all accounts, proper training. In all of these cases, I came out of the spa feeling no better than when I went in.
Of course this is not how we want guests to feel at the end of their visit. Having a specialty consultant come in to do a Mystery Shop on your "-inspired" treatments will give you instant clarity on how this service feels for people who know when something feels like lip service or tokenism. The Mystery Shop will let you know how well you are doing in your commitment to diversity and inclusion, and whether your authenticity practice is shining through or is failing miserably. 
Spas need to do better. The past 18 months have put health and well-being near or at the top of everyone's priority list, and guests are expecting a lot more from spa and wellness facilities than ever before. The data has shown that people in minority communities have been disproportionately affected by the pandemic, and even before COVID experienced much higher rates of sickness and disease. Diversity and inclusion can and should be regular conversations we have as an industry to ensure the well-being of everyone who takes part in the space. Jim Root, a past Chairman of ISPA, says that one of the most important aspects is to be able to hold space for guests. There's a responsibility and an obligation to be able to hold space for guests as a resort, spa, and practitioner. Let's make sure that space is as diverse and inclusive as the guests themselves.
Access the DaySpa version of this article here.