Everywhere you turn, hotel brands are pledging commitments to Diversity, Equity and Inclusion. Promising to be more inclusive is a great start. But hotel, resort and spa DEI policies tend to focus on internal operations and staff, with guest inclusivity often an afterthought.
Providing a more inclusive experience for guests of all races, ethnicities, sizes, sexual orientations and gender identities starts with first recognizing why guest inclusivity so important. By understanding the impact that falling short in this area can have on your brand, the importance of guest inclusivity becomes clear.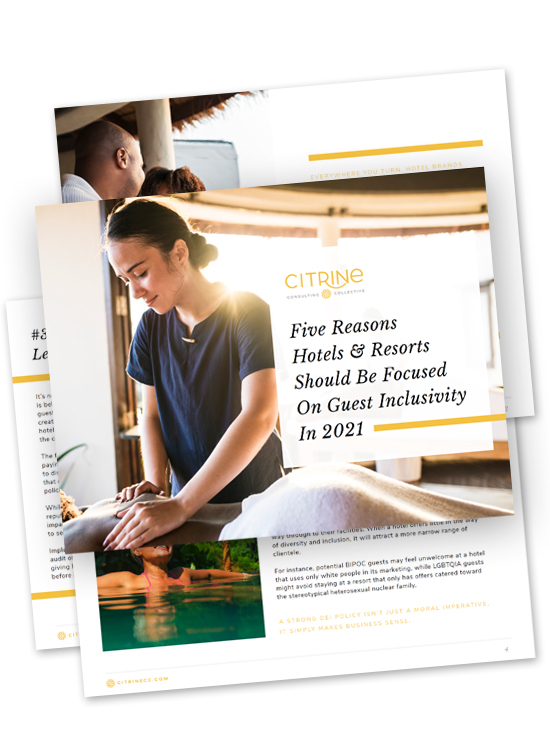 5 Reasons Hotels & Resorts Should Be Focused on Guest Inclusivity in 2021
Download our guide to understand why providing a more inclusive experience for all guests is so important, and how falling short in this area can significantly impact your hotel brand.
Guest Inclusivity Simply Makes Business Sense
We can all generally agree that focusing on Diversity, Equity & Inclusion is important for businesses because it's the right thing to do. But research also shows a strong economic incentive for focusing on a more inclusive guest experience.
Consider this example: Many groups of guests simply do not see themselves or their needs reflected in what many hotels, resorts and spas offer. That's often the case from their marketing all the way through to their facilities. When a hotel offers little in the way of diversity and inclusion, it will attract a more narrow range of clientele.
For instance, potential BIPOC guests may feel unwelcome at a hotel that uses only white people in its marketing. LGBTQIA guests might avoid staying at a resort that only has offers catered toward the stereotypical nuclear family.
Committing to and consistently following through on DEI policies is a proven business booster. Conversely, failing to do so can cost you big time.
A strong DEI policy focused on guest inclusivity isn't just a moral imperative. It simply makes business sense. Consider your hotel brand's commitment to guest inclusivity a small investment for a large reward.
Want to learn more about why hotel brands should be focused on guest inclusivity in 2021? Download my FREE guide, "5 Reasons Hotels & Resorts Should Be Focused on Guest Inclusivity in 2021."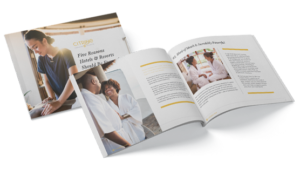 Get the guide now to understand how Diversity & Inclusion impact your organization.